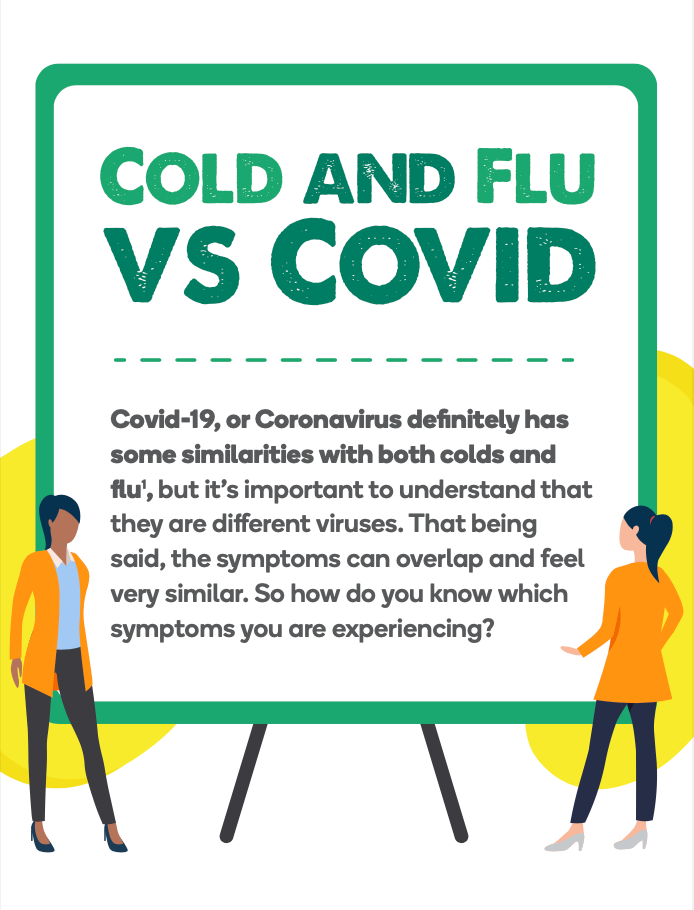 WHAT IS IT?
FLU, THE COMMON COLD AND COVID?
All three of these illnesses are viruses. They affect the respiratory tract, and both influenza (flu) and Covid can result in fatalities. The common cold usually doesn't last longer than a few weeks1, although you may feel pretty bad while you are sick!
All three viruses are spread through droplets – through the air, touch and objects – all three can present as mild, severe and can even be asymptomatic. Asymptomatic means that you have the virus and can pass it on, but it isn't causing you to have any symptoms. This is especially dangerous as you may not even know that you have it.
The difference between the three include the
length of the incubation period,
and the number of secondary infections that are common. Covid has a higher number of
secondary infections
– such as pneumonia – than flu, but flu spreads faster and can also result in a loss of smell and taste
2
.
THE SYMPTOMS
WHAT DO COVID-19, FLU
AND COMMON COLD HAVE IN COMMON?
Covid, flu and the common cold are all respiratory diseases, so they may feel quite similar, depending on the severity. All three can involve a sore throat, a cough and a runny nose.
a sore throat
persistent cough
runny nose
Covid and flu can both make your body ache as your immune system creates an inflammatory response to try and fight the virus. Tiredness and headaches are common with all three viruses. Both Covid and the flu can affect some people more severely, such as those with underlying health conditions, people who are pregnant and older adults2. Telling the difference between Covid, flu and the common cold can be hard, and is often only really distinguished with a Covid test.
If you do suspect that you may have Covid-19, be sure to follow all NHS guidelines regarding Covid protocol.
TREATING SYMPTOMS
HOW CAN I TREAT THESE SYMPTOMS?
Luckily, mild Covid and flu and the common cold can be treated at home3. Symptomatic support, which means helping to relieve your symptoms, is easy to do and will definitely help make you feel better. Lemsip for cold and flu has been specially formulated to help relieve common symptoms such as sore throats, body aches, stuffy noses and fever.
Both paracetamol4 and phenylephrine hydrochloride (which is a decongestant) can help3, as they have great pain alleviating and sinus clearing properties. There are different strengths and active ingredients to help target your specific symptoms, all of them are designed to make you feel better.
WHAT CAN I DO TO HELP ALLEVIATE A CHESTY COUGH?
While dry cough is the most common with Covid2, it's also a symptom of a cold or the flu. This is a result of fluid or mucus build-up in the lungs. Your body will try to get rid of any excess mucus by expelling it through coughing.
Of course, the best thing you can do for colds, flu and Covid is to get plenty of rest4, and drink plenty of fluids. Lemsip hot drinks will help you keep up your fluids, while it's paracetamol content can help to reduce your fever. If you aren't sure how often you can take Lemsip, or which product you should choose, you can ask your pharmacist. If you begin to feel very unwell, or your fever persists even with medication, it is important to contact your doctor as soon as possible.
This article is for general information only and not intended as a substitute for medical advice. In all health-related matters, always consult your healthcare professional.
Always read the label. Use only as directed. Incorrect use could be harmful. If symptoms persist consult your healthcare professional.
If symptoms persist, see your healthcare professional. All information presented on these web pages is not meant to diagnose or prescribe. In all health matters for further information or medical advice, please speak to your doctor or pharmacist.