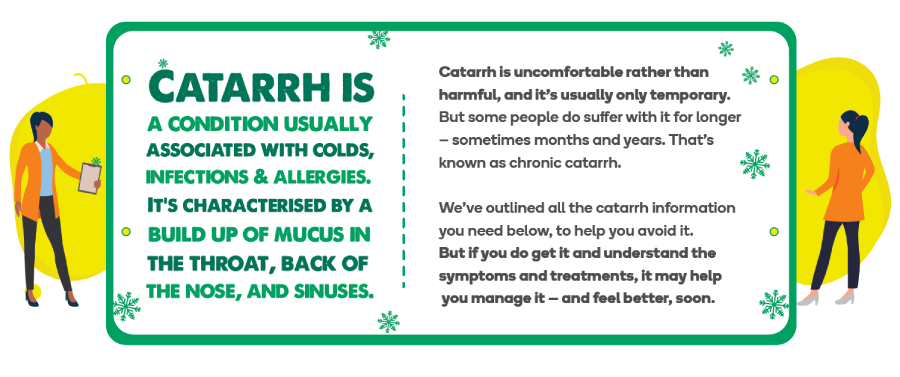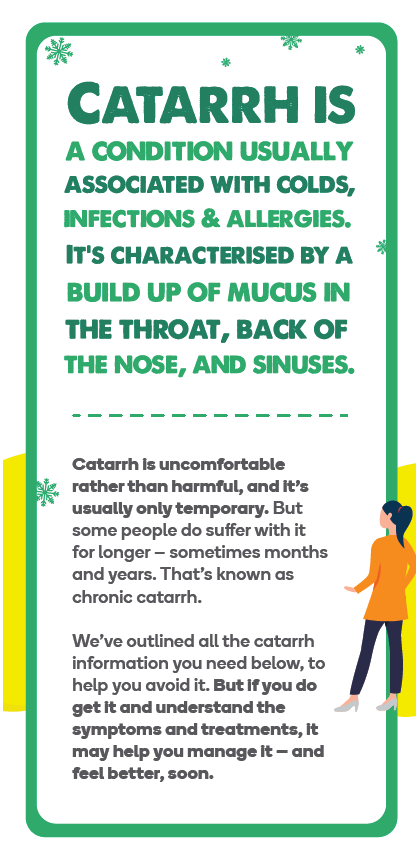 What causes
Catarrh?
The body produces mucus as a response to infection or irritation, when the lining of the nose and throat become inflamed and swollen.
It's not known what causes chronic catarrh, but it's thought to be associated with extra sensitivity to mucus, or an abnormality in the way it moves within the nasal cavaties.
Common catarrh triggers can include:
a cold or other infections
hay fever or other types of allergic rhinitis
non-allergic rhinitis
nasal polyps
HELP
PREVENT CATARRH
If you know you react to certain irritations or infections, you can actively avoid the triggers.
Take care not to catch colds, with good hygiene, such as regular hand washing.

Steer clear of irritants, pollen or smoky environments for example.

Warm, dry atmospheres caused by air conditioning or car heating can cause or aggravate catarrh. Try humidifying the air with plants or bowls of water in the corners of rooms.
It's a good idea to stay well hydrated, with regular sips of water, and avoid constant throat clearing which can further aggravate the condition.

SIGNS AND SYMPTOMS OF CATARRH
The build-up of mucus in airways and cavities (throat, nose and head) can make you feel uncomfortable and is associated with some or all of the following symptoms:
a constant need to clear your throat
stuffy blocked nose

runny nose
persisitent cough

headache or facial pain
reduced sense of smell and/or taste
temporary hearing loss with a crackling sensation in the ear

tiredness
CATARRH
THE OUTLOOK
For most people, the symptoms associated with catarrh are more annoying than acute. With self-care treatments, including over the counter remedies, it can be eased and will usually go away in a week or so. An underlying issue could lead to chronic catarrh, which unfortunately is less easy to remedy, though there are certain specialist treatments available.
HOW TO
TREAT CATARRH
Consider taking a herbal remedy from a health shop or chemist.
Decongestants, antihistamines Similarly, regular use of a saline nasal rinse or steroid nasal sprays can help.

Similarly, regular use of a saline nasal rinse.
A pharmacist can help, if you're unsure.
Consult a GP if your catarrh persists, isn't improving with care, or you're experiencing a lot of discomfort. You may be referred to a specialist, who can test for underlying conditions, such as allergies or nasal polyps. These can be treated accordingly.